Another Second Penny Inn
870 Pequot Trail, Stonington, CT 06378
860-535-1710
innkeepers@secondpenny.com

Romantic Rendezvous or click here for the Sock Hop Special

A one or two night package created to delight you and your loved one. Three different options are available:
1. One Night Romantic Rendezvous:
Enjoy any of our three romantic rooms for $325(plus tax) Sunday through Thursday nights. ($369 for a single weekend night.) Dine at one of Mystic's finest restaurants (your choice of entrees and dining times.)
"Most romantic birthday ever! Thank you!"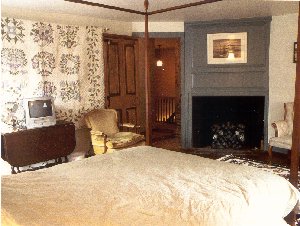 Heather and Ryan, Arizona

Your Romantic Rendezvous includes:
Bottle of French Champagne
A Dozen Long Stemmed Roses (in a vase, for you to take home)

A Box of Chocolate Truffles
Dinner (for two) at Captain Daniel Packer Inne


2. Two Night Romantic Rendezvous:
Enjoy any of our three romantic rooms for $455

(plus tax)

. Package includes all of the above plus a second night B&B.

3. Two Night Deluxe Romantic Rendezvous:
Same as No. 2 but also includes Dinner (for two) at Noah's of Stonington. Price is $529

(plus tax)

for the two night deluxe package.


Obviously, you will enjoy all of the amenities of Another Second Penny Inn including our famous five course
breakfast each morning (served in the dining room, or you may have a deluxe breakfast basket delivered to your door
at the time of your choice.)

Your room will be provided with a CD player and a selection of Romantic CD's to "set the mood."
Other amenities include private telephone with voice mail, cable television and DVD/VCR, seasonal air conditioning, refrigerators, hair dryers, comfortable bathrobes and am/fm clock radios and a basket of superior toiletries.




---
The Sock Hop Special -- just $40 added onto any regular room night, also great with the Getaway Package.

For those guests looking for romance on a budget (sock hop style!) we've created a special package:
Dinner for Two at Mystic Pizza
Pink Carnations
Hershey Chocolate Bars

Just like high school ...

"The best B&B on our New England tour! Amazing food. Thanks!" Matt & Sarah, Idaho
Book your Romantic Rendezvous or Sock Hop Special by calling (860) 535-1710.
We're happy to answer any questions you may have.