Another Second Penny Inn
870 Pequot Trail, Stonington, CT 06378
860-535-1710
innkeepers@secondpenny.com




Every dog I've lost has taken with it a piece of my heart and every dog I've loved has given me a piece of theirs.




If I live long enough when I die my heart will be completely canine and maybe then I will be as loving and as loyal as my dogs.


(Author unknown)


In Memoriam
January 20, 1998 ~ August 13, 2010


Julie, our American Curbside Setter, has gone to wait for us at the Rainbow Bridge. Julie touched many lives in her 12 1/2 years with us and is very much missed (an understatement, if ever there was one.) As the third innkeeper, she was famous for her "meet and greet" skills. Julie took her job very seriously and her "intruder alert" bark let us know when people were about. (Even if we already knew that!)

When we pulled into our driveway in early October of 2001, about 11:30 p.m., and Julie got out of our truck ... you'd have thought we'd moved from California to Heaven. We turned on the backyard lights so she could see and she ran big circles of delight and doggy energy. The next day, she roamed everywhere, sticking her nose in rock walls and snuffling for the little creatures, running and looking back at us, as if to say, "It's mine, really? All mine?!" Never a water dog, Julie loved snow and like to run and slide, burying her nose in a snow bank.

In July 2008, Julie was diagnosed with canine malignant melanoma, an extremely aggressive form of cancer, with a growth on the back of her tongue. Surgery, radiation and an amazing DNA vaccine kept the cancer at bay for two full years and Julie didn't seem to know that she was sick. No doubt she wondered why her alpha mom kept dragging her to all these vet places ... finally, she died the way she wanted to, at home in our living room, with just her humans beside her.

Gathered here are some photos of a life well lived ...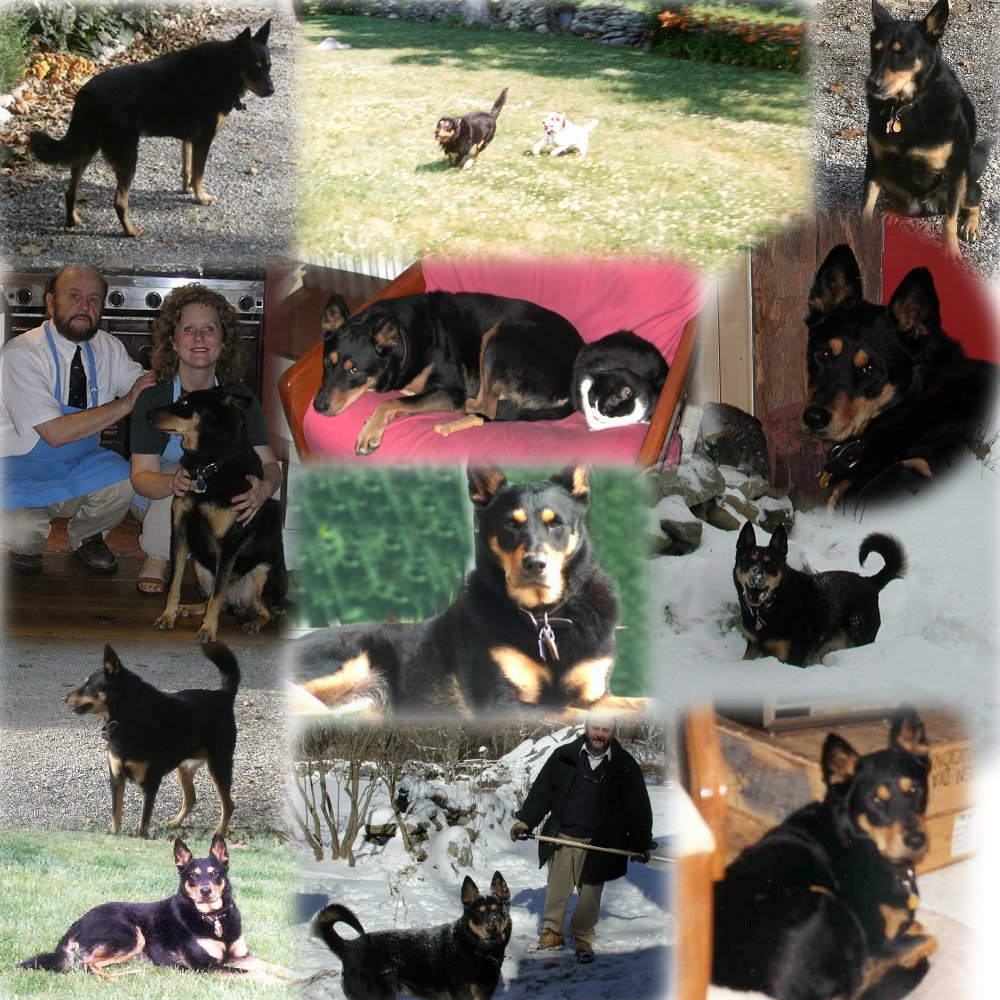 In Memoriam
? ~ January 12, 2012
My alphas brought me home from the Westerly Animal Shelter three months to the day after their Julie died. I don't think they realized the actual date, though, but they knew that Julie wouldn't want me to be alone anymore. I'm very happy here and I've learned that not only are kitties not scary but they get very tasty food and I love to eat it whenever I can. Somewhere along the line, I got old and I'm kind of deaf and a little blind. Because of old injuries that weren't treated, I'm lame, too but I can still get around just fine. I don't know how to play but I like treats and I love to be pet. I give nice soft kisses, too.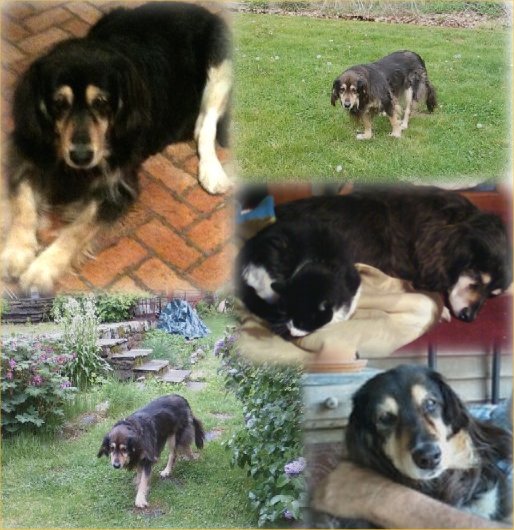 Cassidy's Update: No human could ever figure out quite how old I was, and dogs don't keep track of the years, but I heard them say I must have been at least 12 years old when they found me at the shelter. I spent 14 months less 1 day with my alpha mom and dad. I would have stayed longer but my kidneys didn't work any more and my humans took good care of me, right to the end. I told them many times that I loved them all my life and I always knew, through all the years I was neglected, that my alphas would come for me.

I left them with some great memories: of me chasing a chicken, back and forth, almost in slow motion like Wiley Coyote and Roadrunner and of me sleeping on the mat inside the door, waiting for them to come home. They smile when they remember me "running" ... I did sort of a loping run, ears flapping and my stiff leg sort of flapped, too.
My leg is fine now and I don't have any pain but you know the best thing about life at the Rainbow Bridge? The cat food is pretty tasty here, too.